On Saturday, May 29th thousands marched in the streets of London to protest the CCP (Chinese Communist Party) virus lockdowns and vaccine passports.
They all gathered at Parliament Squares before moving on. The demonstrators then moved into central London including Oxford Street, Downing Street, Trafalgar Square, and Hyde Park.
According to police the protest was largely peaceful with only a "small minority" of protesters who threw objects at officers and some demonstrators briefly occupied Westfield Shopping Centre.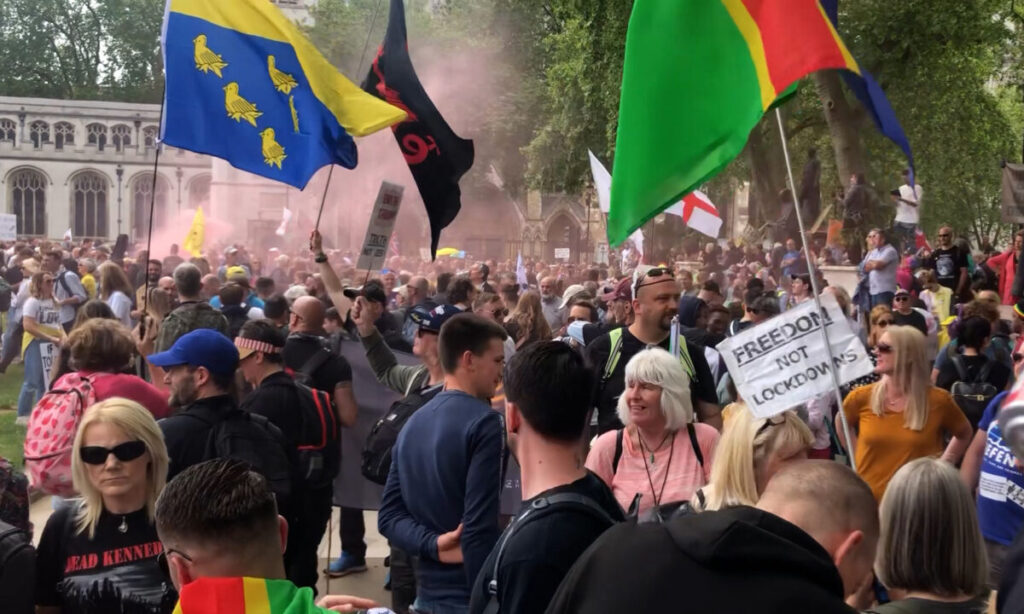 Chanting "freedom" and "stand up" the demonstrators marched through central London for hours. Posters ranging from "freedom not lockdowns" and "no to vaccine passports" and "experimental COVID 'vaccines' kill" to "our children deserve a future" and many others.
"All the people here don't necessarily say the COVID doesn't exist. I know it exists," a protester named Donna told NTD, referring to the disease caused by the virus. "I just don't believe or agree with what the government is doing."
Donna just disagrees with the measures used to fight the pandemic, such as restrictive lockdowns and the rolling out of vaccines she believes haven't been sufficiently tested.
Heritage Party leader and former London mayoral candidate David Kurten told NTD that in his opinion, the government didn't have the right to impose lockdowns.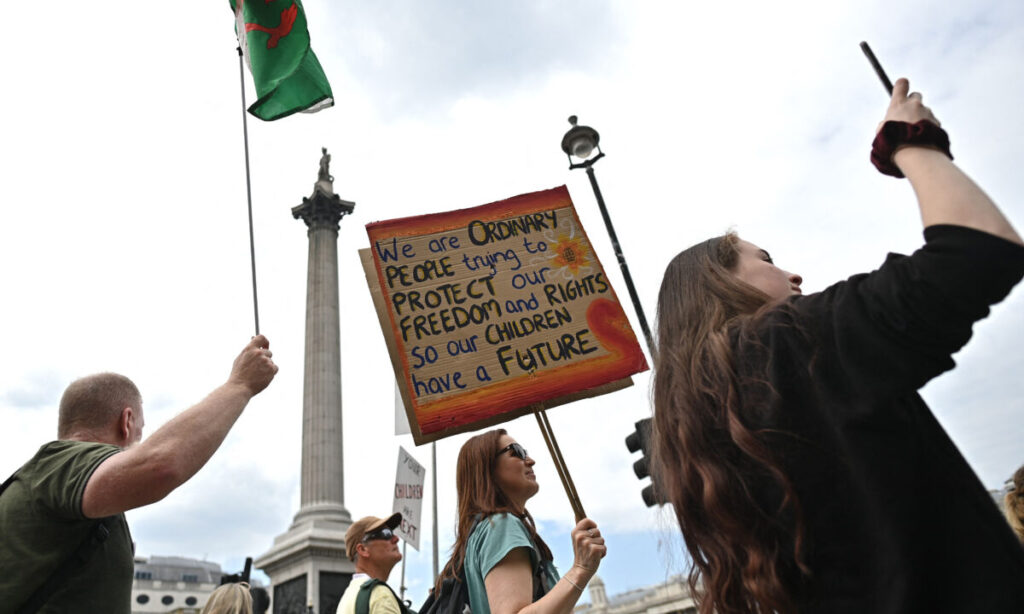 Just after 6 p.m., a small group of people gathered outside of the Westfield shopping centre in London, chanting "shame on you" at police officers blocking the entrance. They found a different entrance shortly after and occupied the shopping centre for around 20 minutes before police ushered them out.
No arrests have been made but the Metropolitan police said a small number of officers were assaulted and an investigation is underway.
"A small 'breakaway group' entered the Westfield Shopping Centre," Chief Superintendent Roy Smith said in a statement. "Met officers responded robustly and with professionalism to prevent greater numbers from accessing the shopping centre and to swiftly remove those protesters who were inside. We worked closely with security staff at the shopping centre so that it could safely remain open."
"A small number of officers were assaulted outside the shopping centre," he added. "A full investigation is under way which will include an extensive review of CCTV footage to identify anyone who committed criminal offences."
Jane Werrell of NTD contributed to this report.