Thanks to The Technology In This Folding Black Box
Odds Are You'll Never Be Stranded In a Crisis Again!
Keeping your electronic devices fully charged is Prepping 101.
If the grid goes down, or even if you just forgot to charge your battery, you could find yourself in a hopeless situation.
Imagine if you were in a car accident…
Or twist your ankle while hiking in the wilderness…
Or you're lost in a bad part of town…
And suddenly your phone battery is dead.
No more connection with the outside world.
Even if you don't have cell reception, having a charged battery means you can still be found through satellite triangulation. But that technology is useless if your battery's dead.
No Sun for Charging? No Problem!
The #1 Reason the QuadraPro Solar Powerbank
Will Save Your Life
And in case you're wondering…
The QuadraPro Solar Powerbank can charge dead batteries even when there isn't any sun!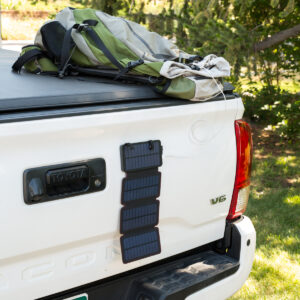 Powered up, it's got about 3 times the average cell phone battery capacity. (That means most phones will get one full charge, and still have some leftover for later.)
Just set your QuadraPro Solar Powerbank out in the sun (or plug it into a wall), and this extra-large battery backup soaks up a huge load of reserve power.
Then the power is literally in your hands, available to use anytime you need it — even if it's been months since its last charge.
In the past few years, rescue professionals, lost hikers, stranded motorists, and more have used this exact technology to save their lives.
9 Survival-Specific Reasons To Get a QuadraPro Solar Powerbank Today
It's 100% Waterproof

It's Tough Like A Tank

Lightweight And Compact

It Charges 2 Devices At Once

It's Got A HUGE Backup Battery

Built IN LED Flashlight Lights Up the Night

Never "Guess" How Much Power You Have Left

Charges On The Move

Built-In Magnets
Be prepared, and get your QuadraPro Solar Powerbank today!